REMINDER: SHHS will be hosting sports physicals next Wednesday evening. See the attached flyer. Physicals are REQUIRED to play school-sponsored sports and this may be the easiest way to get it done.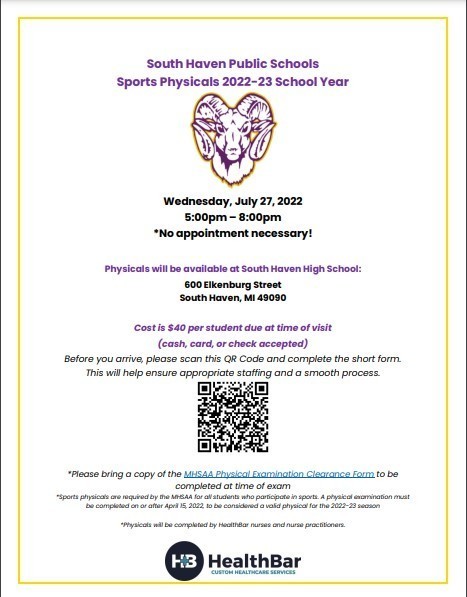 You can find a listing of start information for South Haven Fall Sports by going to
https://www.shps.org/o/athletics/article/785007
. We will be updating this information as the times and locations become available. Please remember that all athletes wishing to participate in school-sponsored athletics MUST have a completed physical.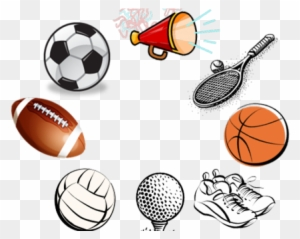 UPDATE: Breakfast hours at South Haven High School have been extended to 7:45 AM - 9:00 AM, Monday through Friday! Don't miss this delicious daily meal. Full summer offerings can be found on our website at
https://www.shps.org/article/768049

Summer Hours for the Administration Building 554 Green Street June 13 - August 5 M: 8:00 - 4:30 PM T: 8:00 - 4:30 PM W: 8:00 - 4:30 PM TH: 8:00 - 4:30 PM F: 8:00 - 12:00 PM

South Haven High School will be hosting a physical night on Wednesday, July 27 from 5:00 - 8:00 pm. The cost will be $40 and the service is provided by HealthBar. See the attached flyer for more details. Copies of the MHSAA Physical Form will be provided by SHPS.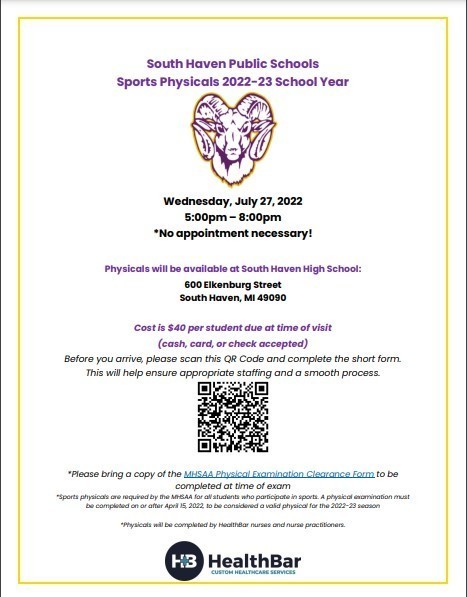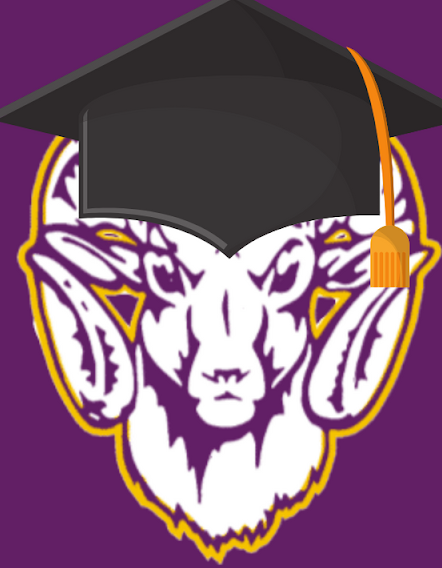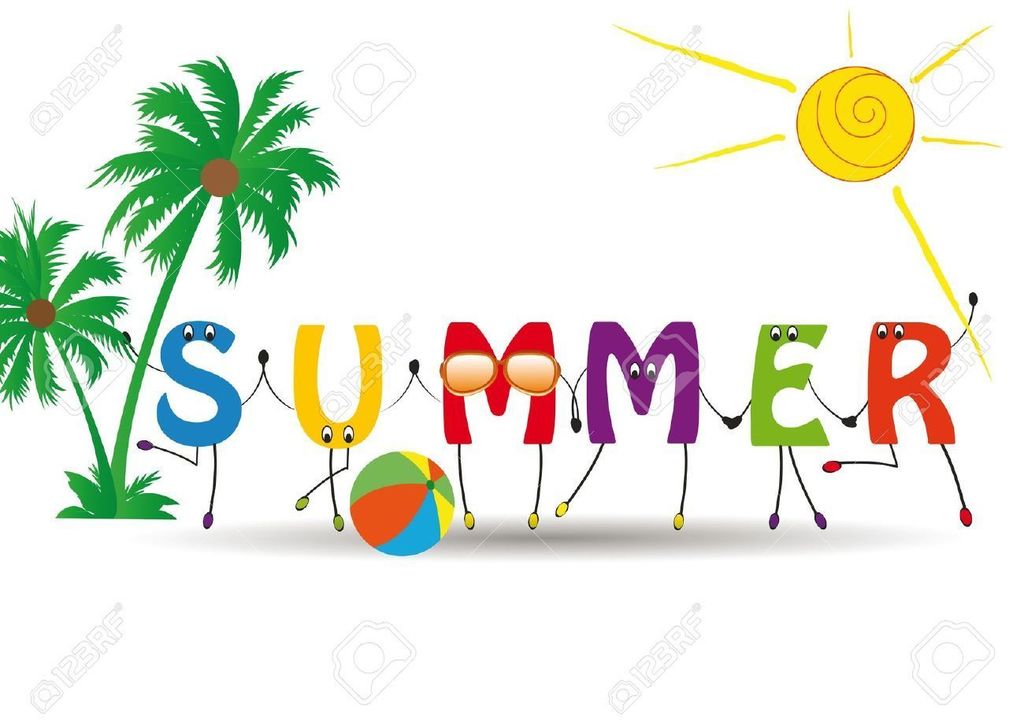 Please join us in celebrating the SHHS Class of 2022 in the Senior Car Parade prior to the Graduation Ceremony. The Senior Car Parade will begin at 1pm departing from SHHS (Elkenburg, Monroe, Water, Phoenix, Bailey) before arriving at Ratcliffe Field by 1:30pm. The Graduation Ceremony begins at 2pm at Ratcliffe Field. Go Rams!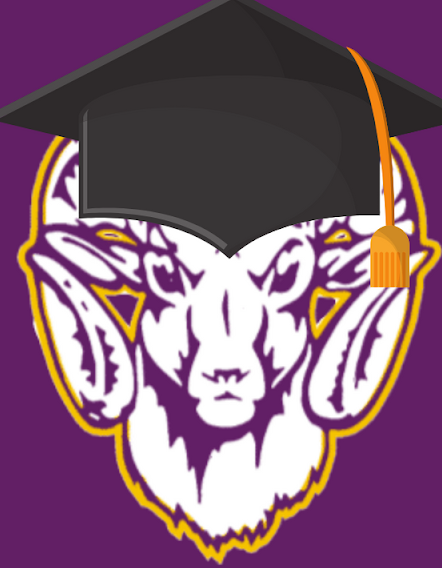 Summer Programming from South Haven Athletics This summer we are looking to make South Haven Athletics stronger, faster and better than ever before and we NEED YOU ALONG FOR THE RIDE. We want all of our athletes to participate in our summer strength and speed training workouts. MARK ON YOUR CALENDARS: Summer Ram Power strength and speed training will take place on Mondays, Wednesday & Thursdays throughout the summer from 5:00-7:30 pm in the SHHS weight room & gym. The program begins Monday, June 13. Please plan your work schedule and activities in advance so you can attend. This will include our Summer Ram Power Program and your own coaches' sport-specific training. All South Haven athletic teams will be holding their summer programming in conjunction with our summer Ram Power Program. Our varsity coaches will be present in the weight room and attendance is requested and expected. All high school and middle school athletes, regardless of sport or gender, are encouraged to attend.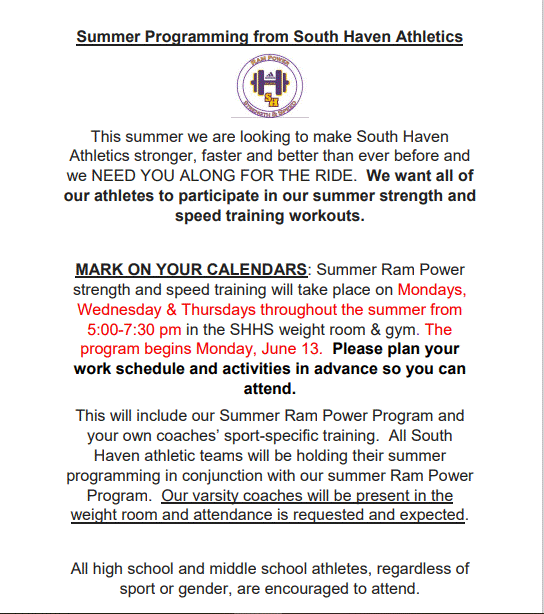 SHHS Prom is Saturday, May 7th at Lake Avesta Farms 7 - 10pm Tickets are $25 each or $45 per couple, purchased in the HS main office Junior and Senior HS students only. Freshmen/Sophomore with a Junior/Senior invite permitted. Guest forms in the main office. Attendees will be subject to a breathalyzer test upon entry and exit.

Senior trip tickets to Six Flags Great America in Gurnee, IL on May 21 at 5pm until May 22 at 6:30am will now be available for purchase this coming Monday (4/25) in the HS Main Office. Tickets will be $50 and can be paid for in cash or by check, payable to "South Haven Public Schools". Tickets will be for sale until next Friday (4/29). The first 50 students to sign up and pay will have a guaranteed seat on the bus. Additional details to follow the sign-up and pay period. If you have any further questions please contact the HS Main Office.

Senior Traditions `22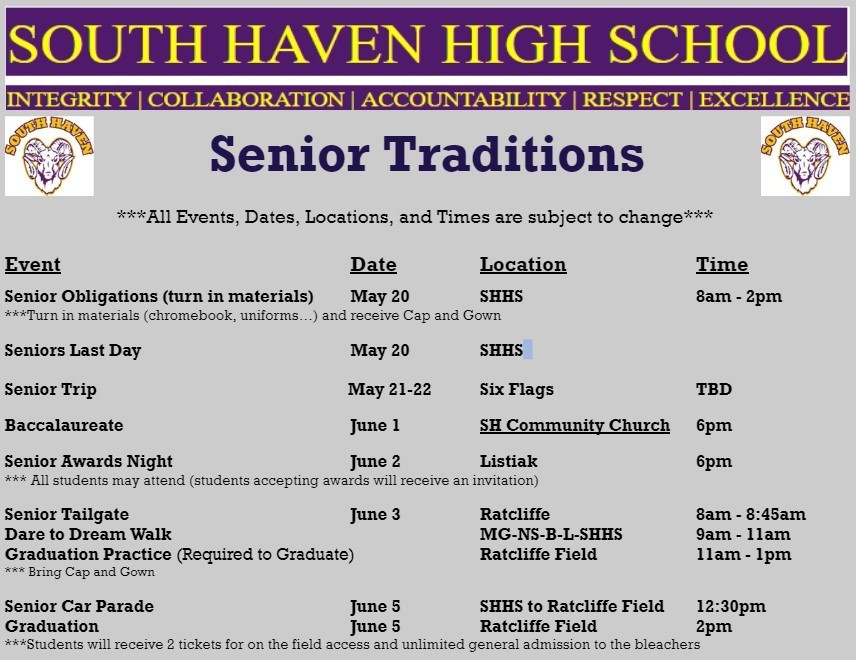 There is a REQUIRED Florida trip meeting for Band and Orchestra students tonight at 6:30pm in Listiak Auditorium. Anyone planning on attending the trip to Florida/Universal/Disney is required to attend.
Dear Bus 8 Families: Unfortunately, due to a shortage of bus drivers, the Bus 8 route has been canceled for both morning and afternoon riders tomorrow, Tuesday, April 12th. Again, there will be no bussing for Bus 8 tomorrow. We apologize for any inconvenience this may have caused and thank you for your flexibility.
Tap into your creative side and create a t-shirt design that could be displayed in The Lighthouse school store! The winner gets a FREE T-SHIRT with personalization and their customer tee displayed in our very own school store. Design deadline: April 1. Design Voting: April 11. The Rules: Your design must contain a lighthouse or ram head, your design must be school colors (purple, gold, black, and white, and your design must be school appropriate. Submit your designs to Mr. Bouve at
mbouve@shps.org

SHHS will host a scheduling information meeting for parents with students currently in grades 8-11 on Wednesday, March 23 in the HS ILC from 6-6:45pm. Also, students met today with counselors and received a form regarding scheduling for next year that needs to be signed and turned in by March 28.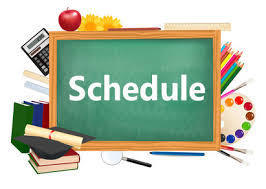 Sophomores -- Early College Academy applications are due TODAY!
4th Annual Cinderella Project All area teens are welcome. *One Guest Per Shopper* Our wish for you is to leave with a FREE gown or formal dress! Sunday, March 20th, 2022, 10am-3pm. Event Location: Harvey House Salon 29063 E. Red Arrow Hwy Paw Paw, MI 49079
March is "Spread the Word: Inclusion Month" and SHPS students are championing the messages of inclusivity and belonging throughout the district! Through the work of Ms. Jen Otto and the Peer-to-Peer (P2P) program, high school students are taking action to ensure people with intellectual and developmental disabilities are valued, respected, embraced, and included in classrooms and in the community. Students are also proudly wearing Spread the Word gear throughout March thanks to START grant funding from the Family Center for Children and Youth with Special Health Care Needs. To sign a pledge please visit
https://www.spreadtheword.global/pledge
. SHPS students are also working with South Haven business leaders to help create safe spaces for their neurodiverse peers in public. Working with Mr. Scott Moore of Moore Theaters, South Haven Michigan Theater will host 2 auditory and visual sensitive screenings for SHPS students and their families at the end of March.